Dare to Dream Award
Financial Help for Single Women
Soroptimist International of Calgary has an award to help women – just like you who have the courage and determination to better their lives by continuing their education. Perhaps We Can Help.
Soroptimist Dare to Dream Award for Women is a $1000 cash award that recipients may use to offset any costs associated with their efforts to obtain an education, including books, tuition, transportation and more.
The award is directed at single women who want to upgrade their education at a university or college, or who, for whatever reason, find that they are lacking in the basic education of high school diploma, or are new to Canada and must improve their English education in order to enter the workforce in their chosen field. It also targets women who find themselves lacking in the skills needed to find a better career, so want to enter a skills training program.
Program Structure
Soroptimist International of Calgary will accept applications from August 1 to January 20 of the following year. Applications will be judged, and the winner will be notified by early March. The award will be presented at an event honouring all award winners of Soroptimist International of Calgary's awards program in April of each year.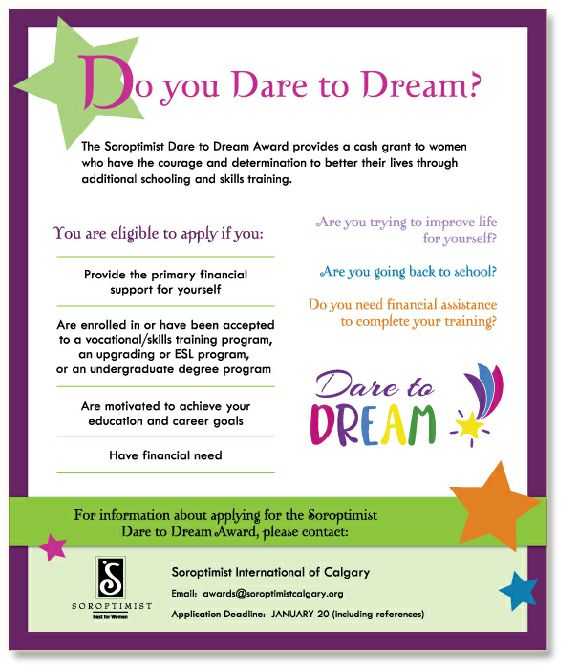 Apply for the Dare to Dream Award for Women
Step 1: Download Application Form and save it to your computer. Open the saved file (DTDAwardApplicationCalgary.pdf) and complete your application per the instructions
Step 2: Download Two Reference Forms and email them to your chosen Referees
Step 3: Submit your completed Application and 2 Reference forms by midnight, January 20 in the coming year to the following:
Soroptimist International of Calgary Awards Chair e-mail: awards@soroptimistcalgary.org
Important Notes:
Applications cannot be accepted past the deadline
Save the application form to your computer first and then open the downloaded file on your computer before completing it (recommend completing Part I: Basic Information, then save the file with a new filename (i.e., YourName-DTDAwardApplicationCalgary-2020.pdf) and reopening it to ensure that you are working on the correct file).
Please read all instructions carefully to ensure that your application is complete and ready for submission.
For Additional Information, please contact: Awards Chairperson
Donate to Soroptimist International of Calgary
Your donation will help ensure the continuation of Soroptimist International of Calgary support for women and girls in Calgary.