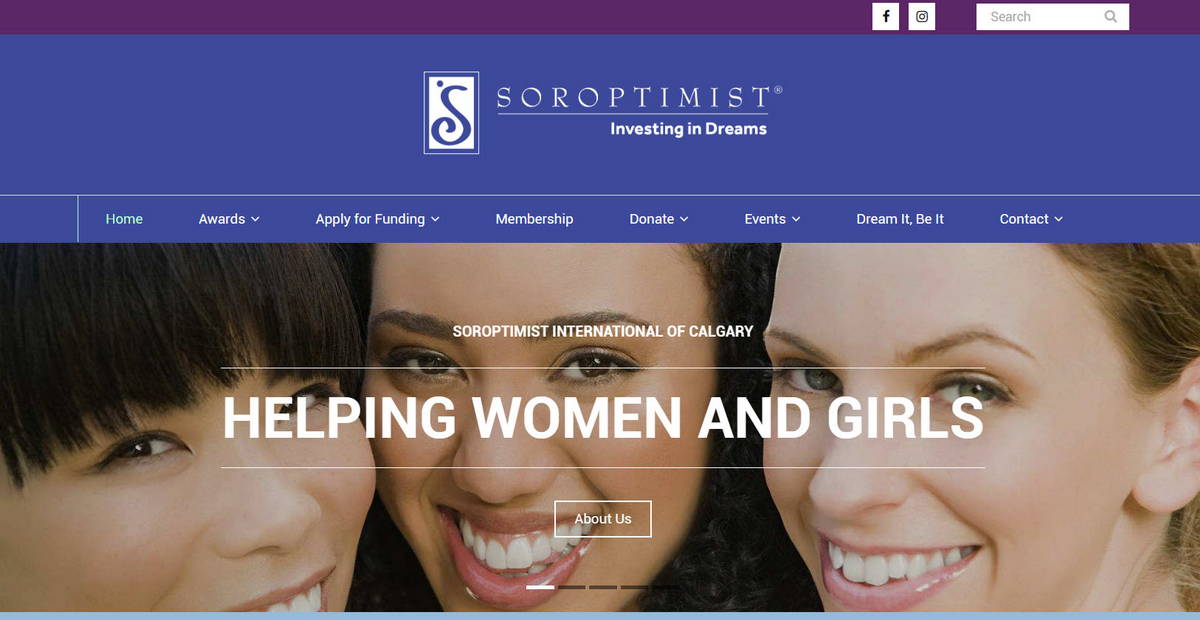 Welcome to the NEW Soroptimist International of Calgary Website!
We are thrilled to present a fresh online platform for our website visitors, to help improve the overall browsing experience. It is optimized for various devices as well, allowing you to seamlessly explore the content from your desktop, laptop, or mobile device. Our team has worked diligently to provide a user-friendly interface, ensuring easy navigation to access the specific information you desire. Besides a new and modern look, we have included several new pages where you will find interesting / valuable information.
Friendship Links
The Friendship Links page connects Soroptimist International of Calgary to Soroptimist organizations around the word where we have established relationships. Click the link to visit their websites.
Donate
A key to our ongoing success in helping women and girls is the ability to raise funds. To help do this, we have incorporated an easy-to-use donation app in our website which can be accessed by the link at the bottom of most pages on our website. You can also visit the Donate page directly. We have also created a QR code which can be scanned by a user's mobile device to quickly access the donation app. The QR code can be displayed at events, in programs, on banners or in presentations to allow donations to be made when people are most motivated to do so.
Gallery
An image gallery has been incorporated into the new site so show Soroptimist activities including events, awards and visiting Soroptimists.
Events
The new Events page will display upcoming local events as well as key events from other Soroptimist organizations.
Site Search
I the burgundy coloured per-header bar, there is a search box that will search the site for content. This can help you find specific content within a page or a blog post.
Blog
We have also implemented a new Blog on the website to bring make more information available for you on topics such as: Latest News; Upcoming Events; Members in the Spotlight; etc.
Welcome once again to our new website, where knowledge and convenience come together as you explore the various pages, discover information and engage with our community. Your feedback is invaluable to us, so please don't hesitate to reach out with any questions or comments. We are committed to serving your needs and to providing a great online experience. Thank you for joining us on this exciting journey!
---
For more information on Soroptimist International of Calgary and the work we do in the community to help the lives of women and girls, please CONTACT US today.